Soccer trials in Madrid
FOOTBALL TRIALS PROGRAM MANAGER: Javier Mallo
Academic Background: PhD in Sports Sciences (Doctoral thesis dissertation about Football) MSc in High Performance in Sports BSc in Physioteraphy UEFA «A» Football coach.
Professional Experience Football (13 seasons):
Currently: Fitness coach at Real Madrid(Under-21 professional team)
Previously:
2 seasons (2012-2013 & 2011-2012): Sport Scientist and Strength and Conditioning Coach at Manchester City FC
4 seasons working for Atletico de Madrid as fitness & assistant coach for the U-21 and U-19 teams (Former players from this team where David de Gea & Koke, in Spain s squad for the 2014 World Cup)
6 seasons working as fitness coach & assistant coach for U.D San Sebastian de los Reyes (Segunda Division B).
Additional Experience Football:
Associate Professor in the Sports Science Faculty of the Technical University of Madrid teaching «Football» (2008-2011) Scientific Advisor for the FIFA Referring Department in international tournaments (2003-2010) More than 20 papers published in international scientific peer-review journals.
Year Long, Half Year & Monthly participants will receive daily training sessions (4 times per week) in the morning from 8:00AM until 9:30AM at the EduKick Madrid home training pitch located in Alameda de Osuna (located directly behind our EduKick Madrid resident apartments). Additionally, our academy players will be inserted onto a local Spanish club team for three (3) evening training sessions and weekend matches (according to their age and level).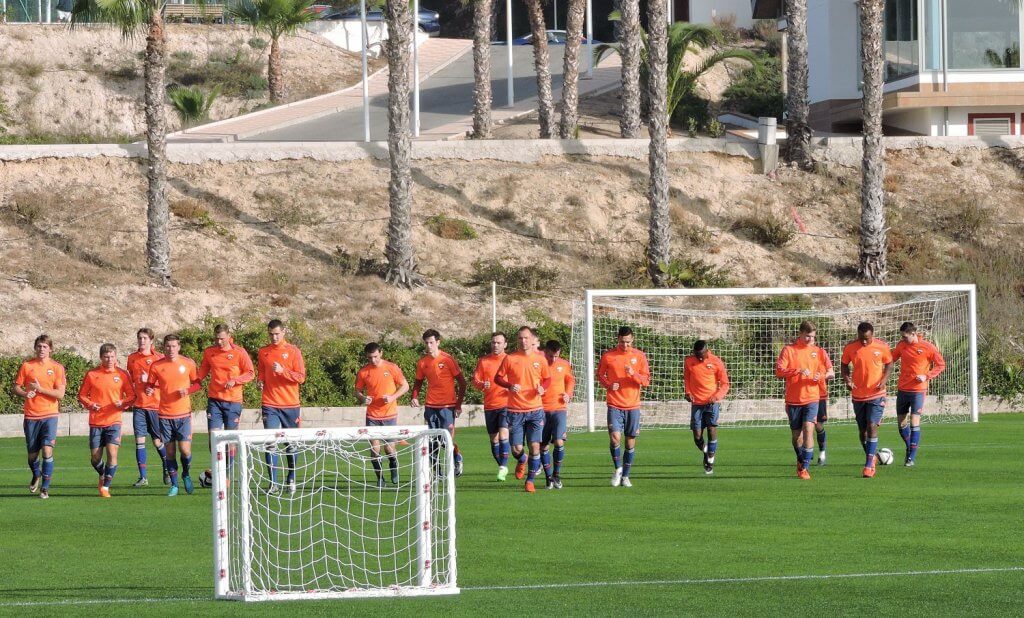 Technical Futbol Coach: Javier Martin
The EduKick Madrid technical football coach for the morning program is Mr. Javier Martin. He was a former professional player and since 2004 he has been working as a football coach and sporting director at Atletico Alcobendas (http://www.alcobendas04.com). Mr. Martin holds the UEFA «A» coaching license. Due to his pro futbol background and coaching experience in Madrid, he has extensive professional relationships with all the local clubs (both amateur and professional) in the Madrid area.
In regard to the insertion of the players onto local clubs, our primary club partnership for male participants is C.D. Canillas (http://www.cdcanillas.com), where we enjoy the support of both the Club President and Sporting Director.
In the case of a very talented (potential professional player) that attends EduKick Madrid, we have secured a relationship with the Sporting Director of U.D. San Sebastian de los Reyes, and we can include these «more talented» players in their club structure. U.D. Sanse is currently playing for promotion to Segunda Division «B». On the other hand, if a player is not selected to play for C.D. Canillas, they will join Alameda de Osuna, another local Spanish club just near the player's residence.Spain Pro Football
The professional Football Trials in Madird, Spain $5,699.00
Period: August to June
(Visited 219 times, 1 visits today)