Top 10 Football YouTube Channels: Have you missed the highlights, are you looking for the best YouTube channel for live streaming of football matches? Stop searching and take a look on these best 10 channels of YouTube that will provide you the highlights and live streaming of upcoming football games. We have made a list of best YouTube Channels which is based on number of subscribers.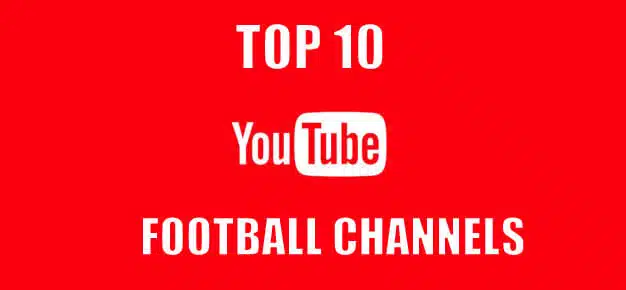 List Of Top 10 Football YouTube Channels
Freekickerz [8,6 mln Subscribers]
This is the YouTube Channel of football which has highest subscribers in this list. It really deserves this amount of followers. For those who are looking for How to shoot free kicks, curling a football, skills, tricks, reviews of football boots, best save from goalkeepers, fails and pranks. Check out the schedule of this channel below
Monday: Top 5 Goalkeeper Saves
Tuesday: Freekickerzday
Wednesday: Top 5 Goals
Thursday: Tutorial Thursday
Friday: fkday
Saturday: fkday
Sunday: Top 5 football fails.
Nike Football Channel [2,9 mln Subscribers]
Nike football channel has the most number of subscribers in football kit manufacturing industry. Nike's latest cleats, kits can be also found here. Fond of Nike brand can enjoy featured videos of Cristiano Ronaldo, Neymar wearing accessories of Nike.
EA Sports FIFA [4,1 mln Subscribers]
One Football YouTube channel which has surpassed FIFA in terms of subscribers is EA Sports FIFA. The channel has an approximate amount of 1.7 million subscribers. It is for the gamers of football that joined YouTube in July, 2009. Tonnes of videos featuring tricks and best gaming. You can easily break boredom with its amazing videos.
FIFATV [8,3 mln Subscribers]
The official YouTube Channel of football governing body which has most number of subscribers as compared any football YouTube channel. It is well known for providing highlights of FIFA matches including some special videos of different confederations. FIFA TV provided the highlights of FIFA Women's World Cup 2015, FIFA Beach Soccer World Cup Portugal 2015. So now, don't miss any highlights.
KICKTV Channel [1,041,230 Subscribers]
Another popular football YouTube channel that has 1 million followers. This channel is active since October, 2005. Fueled by passion and love for game, Kick TV is digital destination for soccer, news, lifestyle and entertainment, as mentioned in their channel's description.
If you are fan of Spanish football league, La Liga, then this is the channel you should subscribe right now. This channel has thousands of videos and provides the highlights of La Liga recently played matches. You can also watch interviews of some of your favorite footballers and managers there.
The Adidas Football Network [1,5 mln Subscribers]
Welcome to the official football channel of Adidas Football. Here you will be able to watch latest videos of Adidas new soccer boots, new kits, balls and every product of Adidas which is related to football. This channel also posts videos of its brand ambassadors like Lionel Messi, Gareth Bale, Luis Suarez, James Rodriguez and more. So all football lovers can get latest updates of new products of Adidas on this channel.
Bundesliga [2,5 mln Subscribers]
A football YouTube channel dedicated to Germany's top football league Bundesliga. Enjoy most popular matches of Bundesliga and skills of footballers in this most popular football channel of Germany. It has made a schedule of complete week which follows
Monday: Off the Pitch
Tuesday: Corner Kings
Wednesday: Best of Current Match day
Thursday: History
Friday: Corner Kings / Top Compilations
Saturday: Behind the Scenes
Sunday: Top Compilations / Interviews
Football Daily [587,201 Subscribers]
It is not channel of any League, Confederation or Association. Having subscribers more than 500,000 football daily won't let you to leave its channel too soon. A verified YouTube channel featuring top 10 stuff, transfer talk and much more. In short, you can rely on football daily for the latest in videos.
Source
(Visited 419 times, 1 visits today)